Invisalign® at Advanced Dental Partners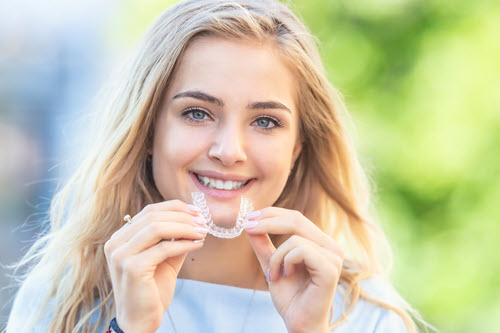 Invisalign is a revolutionary orthodontic treatment that offers an alternative to traditional braces for correcting misaligned teeth and bite issues. Unlike traditional braces with metal brackets and wires, Invisalign employs a series of clear, custom-made aligners that gradually shift teeth into their desired positions.
Each set of Invisalign aligners is worn for one-to-two weeks before progressing to the next set in the series. The aligners are virtually invisible and can be removed for eating, drinking, brushing, and flossing, providing greater flexibility and convenience compared to traditional braces. This removability also allows for more comfortable oral hygiene maintenance.
Invisalign treatment begins with a comprehensive assessment, including digital scans or impressions, which are used to create a customized treatment plan. Using advanced 3D technology, patients can preview the expected progression of their teeth and the final result before even starting treatment.
Invisalign is suitable for a wide range of orthodontic issues, from mild crowding to more complex cases. Its discreet appearance and convenient features make it a popular choice among individuals seeking a less noticeable and comfortable way to achieve a straighter smile. Regular check-ups with the orthodontist monitor progress, ensuring effective results.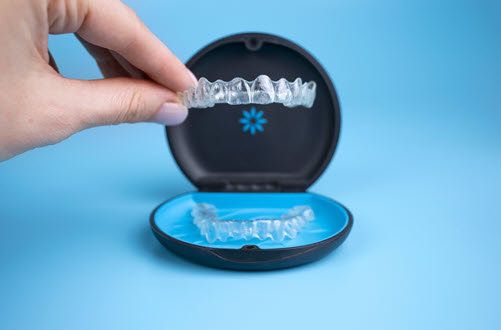 What Our Patients Say About Us
Verified Endorsements, Testimonials, Comments, and Reviews
Advanced Dental Partners
401 Port View Dr.
Suite B
Harrisburg, PA  17111
Office: 717-564-7010
Monday: 8:00am – 6:00pm
Tuesday: 9:00pm – 5:00pm
Wednesday: 8:00am – 6:00pm
Thursday: 8:00am – 5:00pm
Friday: 8:00am – 1:00pm
Saturday: 9:00am – 1:00pm (Occasional)